We Support Them while They Protect Us
For The Troops is an all-volunteer run 501(c)(3) non-profit organization dedicated to providing members of the American military with 'We Care' packages containing basic necessities, goodies, games and—most of all—a show of support.
Since its inception in 2005, For The Troops has substantially grown in volunteers and donors, and has distributed more than 250,000 packages year-round to American troops who risk their lives overseas every day—far away from the comforts of home.
It started with a toothbrush…
Early one morning in 2005, Paula Cornell realized that her husband had forgotten to brush his teeth. When she pointed this out to him, he said, "It's no big deal, I didn't brush my teeth for a year in Vietnam." He went on to tell her that he also went without other comforts, such as toilet paper, for during his tour of duty.
Faced with the fact that troops today still live in foreign lands without basic commodities, Paula felt a deep need to help American freedom fighters obtain everyday comforts that civilians take for granted.
…that became an act of compassion…
After assisting with several care-package efforts at her previous place of employment, Paula—along with a former co-worker  co-founded the all-volunteer, non-profit organization that would gather materials and ship 'We Care' packages to American troops serving in Afghanistan and Iraq.
…and grew into in a community undertaking.
For The Troops evolved into an organization with a steady stream of non-compensated individuals who pack boxes at the organization's storefront office in Simi Valley, CA, where donated items are dropped off.
Additional volunteers serve at fundraising events, such as the annual military tribute gala and annual golf tournament. Students, seniors and other individuals also handwrite letters to personalize every box.
Rosemary Allison
Holly Cole
Jim Cornell
Paula Cornell
Tony DiRaimondo
Katie Varner
Margie Bartlett
Dan Langston
Jerry Mason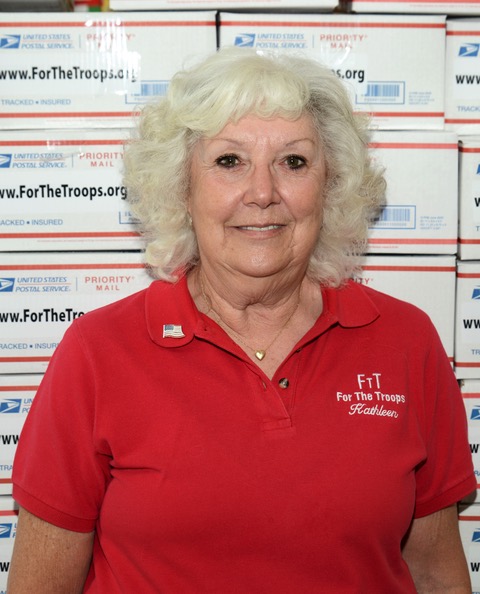 Kathleen Osterhoudt